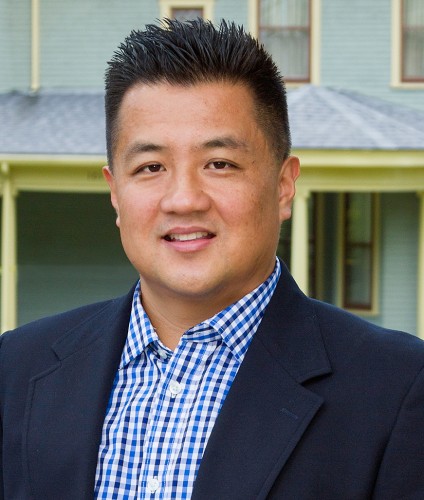 Affiliated Departments & Programs
Sam Pack is a professor of cultural anthropology at Kenyon. His research interests address the relationship between media and culture and specifically focus on an anthropological approach to the production and reception of television, film, photographs and new media. In this capacity, he has conducted ethnographic studies among school-aged children in inner city Philadelphia, middle-class families in suburban Pennsylvania and New Mexico and adults in two different Native American communities (Navajo Nation and Salt River Pima-Maricopa Indian Community).
More recently, he has undertaken research and/or film projects in Central America (Honduras and Costa Rica), the Arctic (Labrador, Canada), the Middle East (West Bank, Palestine), Southeast Asia (Thailand, Vietnam and Philippines) and East Asia (South Korea and Japan). Dr. Pack has held visiting appointments in universities and research institutes in India, Costa Rica, Palestine, Iceland, Vietnam, Thailand, the Philippines and South Korea. He will serve as the resident director of the Japan Study Program at Waseda University in Tokyo during the 2019-20 academic year.
Pack has authored almost fifty articles published in a variety of peer-reviewed journals and edited volumes. He has completed two manuscripts ("Television Through Navajo Eyes: Situating Reception in Everyday Life" and "Vis-à-Vis: The Life History as Dialogue") as well as two films ("Celebrating Semana Santa: Change, Conflict and Continuity in Rural Honduras" (with Said Zagha '11) and "Water Puppetry in Vietnam: An Ancient Tradition in a Modern World" (with Caleb Bissinger '13). Another manuscript titled "Ethnographic Media: History and Practice" (co-authored with Jayasinhji Jhala) is under contract with the University of Toronto Press.
Pack teaches a wide variety of courses in cultural anthropology, visual anthropology, Native American studies, Asian studies and narrative history. He currently serves as the book review editor for Visual Anthropology, the flagship journal in the field. Pack is the grateful recipient of the ASIANetwork Freeman Award for Faculty-Student Collaborative Research (2010 and 2016), Alpha Delta Phi's Outstanding Teaching Award (2011), Next Generation Libraries Grant (2012), GLCA New Directions Initiative Grant (2013), Fulbright Specialists Grant (2013 and 2016), POSCO TJ Park Foundation Research Grant for Asian Studies (2014), Academy of Korean Studies Research Grant (2015) and Ohio Five Digital Scholarship Initiative (2018).
Areas of Expertise
Cultural identity formation and contestation, global and local dynamics of mass media, media ethnography, reception studies, indigenous modes of (self-re)presentation, subject-generated imagery, life history, Native North America, Southeast and East Asia.
Education
— Doctor of Philosophy from Temple University
— Master of Arts from Temple University
— Bachelor of Arts from Colorado College
This course introduces students to the discipline that studies and compares cultures. Students will learn about the main concepts used in anthropology and how anthropologists conduct research, while also discovering how people live in other times and places. Students will learn about theories that provide frameworks for understanding and comparing cultures. Ethnographic descriptions of life in particular places give students factual materials with which to apply and critique such theories. Through this introduction to the study of culture in general, and an exposure to specific cultures, students inevitably come to re-examine some of the premises of their own culture. This foundation course is required for upper-level work in cultural anthropology courses. Offered every semester.
Never before in any period of history have so many people had access to so many mass-mediated images. Yet in spite of this proliferation, anthropology has been a recent newcomer to the study of mass media production, distribution and consumption as situated human activities. Uniquely suited to enter this discourse, an anthropological approach to mass media transcends the limitations of traditional media scholarship by paying closer attention to the broader social and political contexts in which they are embedded. This course endeavors to develop an anthropological understanding of contemporary forms of cultural communication and reception by analyzing the flow of media images across national borders; particular emphasis is given to the local impact of media culture in different parts of the world. Students will examine the role of mass media in forging national and ethnic identities, body images, sexuality, gender and experiences of war and violence. This counts as an upper-level elective for the major. ANTH 113 is strongly recommended. No prerequisite. Offered every other year..
This course will examine the ways in which Asians have been constituted in popular culture and have constituted themselves through popular culture. As such, it will be divided into two halves: the former will focus on "Asians in Popular Culture" while the latter will focus on "Popular Culture in Asia." Thus, we will juxtapose the racial representations of Asians and Asian Americans produced from the dominant mainstream with how Asian peoples have chosen to represent themselves to the rest of the world. We will begin with the "model minority myth" and will explore examples of anti-Asian sentiment, the ignominious legacy of Yellowface, the contrasting gendered depictions of Asian women vis-à-vis Asian men and cross-racial intersections. Case studies in the second half of the semester will include: South Korean films, television dramas, popular music, Japanese manga and anime Indonesian dangdut and Asian American independent media projects. The primary objective will be to challenge students to rethink the very notion of the popular and view popular culture not as something trivial but as a critical mode of production with racial, ethnic, political and economic ramifications. This counts as an upper-level elective for the major. ANTH 113 is recommended. No prerequisite. Offered every other year.
Within anthropology, the life history has long been recognized as an important vehicle for learning about how culture is experienced and created by individuals. This seminar seeks to develop a better understanding of the research method known as life history, and of its attendant beliefs and limitations in diverse social and cultural contexts. The course will also address how people experience categories of difference such as race, ethnicity, class, gender, sexuality, age, religion and geographic location along with their relevance to personal identity. Equally important, this is a learning by doing course, as it will attempt to bridge theories of self-narrative with cultural anthropological research methods. Students will experience firsthand the theoretical, methodological and ethical issues involved in collecting life histories. By undertaking individual projects, each student will learn to organize and conduct life history interviews, record them, transcribe them, edit them and present them in written form. The goal is to explore the multiple stages involved in transforming a narrative life into an inscribed text. This counts toward the upper-level cultural anthropology requirement for the major. ANTH 113 is strongly recommended. No prerequisite. Offered every other year.
The primary goal of this course is to separate the public perception and mythology of the "Indian" from the divergent experiences and everyday reality of Native Americans. A thematic approach will be applied to this study and topics such as history, film, language, spirituality, commercialism, appropriation, subsistence and sovereignty will be explored in some detail and from a variety of perspectives. Through a survey of various tribal groups, students will analyze some of the major concepts, methods and theories used in anthropological studies of Native American cultures; assess the impact that stereotypes, biological and cultural interaction with non-Indians, and urbanization have had on Indian identity; and appreciate the richness and complexity of Native American life as it was and continues to be lived in diverse ways and in different places in North America. This counts toward the upper-level cultural anthropology requirement for the major. No prerequisite. Offered every third year.
This course provides students with the opportunity to conduct significant independent research on a topic of their choice. Typically, a student will propose a research focus in consultation with a member of the faculty who agrees to serve as the project advisor. Late in the student's junior year or early in the senior year, they submit a brief description of the honors project to the department. This synopsis outlines the central question being addressed, what methods will be used in conducting the study and how the thesis will be organized. All anthropology faculty not on leave at the time of the proposal's submission review the document and decide whether it will be approved or declined based on the proposal's intellectual merit and feasibility as well as the student's past classroom performance, demonstrated motivation in pursuit of excellence and organizational skills. After the project is approved, the student builds an honors committee consisting of the advisor and one other faculty member who need not be an anthropologist. The student's senior year is spent conducting the research and writing the honors thesis, although both processes may well have begun in previous years. The thesis is read by the two members of the honors committee as well as a third person who is an expert in the field addressed by the thesis but who is not a part of the Kenyon faculty. An oral thesis defense, involving the student and the three readers, takes place near the end of the spring semester. The readers then determine whether to award no honors, Honors, High Honors or Highest Honors to the thesis based on the written document and the student's defense of his/her work. A cumulative GPA of 3.33 and major GPA of 3.5 are required. Permission of instructor and department chair required.