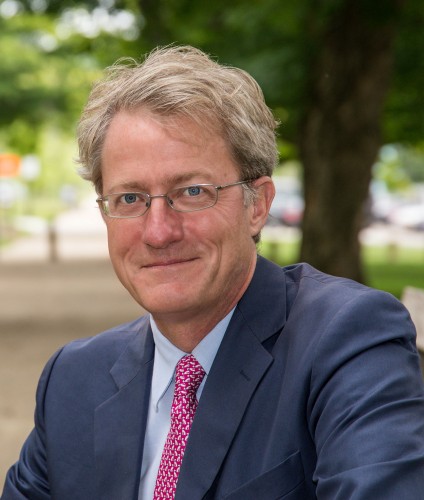 Affiliated Departments & Programs
Jeffrey A. Bowman has served as Kenyon's provost, or chief academic officer, since 2020, and is Kenyon's acting president until the search for the College's 20th president is complete. As provost, Bowman has been committed to educational excellence and has provided valuable support to faculty as they met the unprecedented challenges of the COVID-19 pandemic. He has played a critical role in shaping and realizing the vision for Kenyon's next century, advancing key elements of the strategic plan such as the program in computing, nurturing a global curriculum, and continuing to build structures to support students' success in college and after graduation. Before his appointment as provost, Bowman held progressive positions of leadership within the faculty and administration, including as associate provost and chair of the faculty.
Bowman joined Kenyon's faculty as a member of the history department in 1997. Since then, he has taught courses related to Europe and the Mediterranean between 300 and 1500 C.E., the history of Spain and Portugal, food history, travel narratives, and the varied interactions of Jews, Christians, and Muslim in the premodern Mediterranean. He is committed to promoting and supporting a trans-disciplinary, inclusive and global curriculum for the 21st century.
Bowman earned his bachelor's degree in English, cum laude, at Carleton College in Minnesota, and holds master of arts, master of philosophy and doctorate of philosophy degrees in medieval studies from Yale University. His research interests encompass law and society in the medieval Mediterranean, hagiography, and medieval women. He has published articles in Viator, the Journal of Medieval of Iberian Studies, Annales du Midi, the Catholic Historical Review, and in several collected volumes. His 2004 book, "Shifting Landmarks: Property, Proof, and Dispute in Catalonia around the Year 1000" (Cornell University Press), was awarded the American Historical Association's Premio del Rey book prize. His recent publications have focused on the power of elite women in the 10th through 12th centuries.
Areas of Expertise
Europe and the Mediterranean between 300 and 1500 C.E., Spain and Portugal, medieval travel narratives.
Education
1997 — Doctor of Philosophy from Yale University
1994 — Master of Philosophy from Yale University
1992 — Master of Arts from Yale University
1988 — Bachelor of Arts from Carleton College