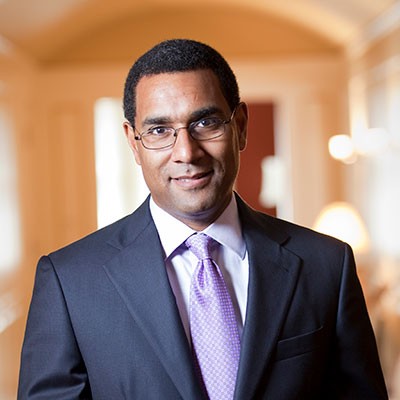 Sean M. Decatur became the 19th president of Kenyon College on July 1, 2013.
Decatur is a lifelong champion for the liberal arts and a leading voice in the national conversation about higher education. Under his leadership, Kenyon has attracted its most diverse and academically talented incoming classes in history. In 2017, Kenyon became a member of the American Talent Initiative, a coalition of colleges working to expand access and opportunity by graduating 50,000 additional highly talented lower-income students by 2025. Additional efforts like the Kenyon Access Initiative, combined with an ensemble of Kenyon programs aimed at increasing diversity and fostering inclusion, support Decatur's commitment to building educational communities that talented students from all backgrounds can access, and where they thrive.
This commitment has been a priority in the two strategic plans Decatur has led at Kenyon: the Kenyon 2020 Plan, and, starting in 2021, "Foundations for Kenyon's Third Century" — a plan based on Kenyon's revised 2020 mission statement to "build strong foundations for lives of purpose and consequence." This plan focuses on three key areas: strengthening Kenyon's commitment to rigorous, dynamic learning in a contemporary context; building a thriving and diverse community united by a shared sense of belonging; and reinforcing a strong financial foundation for increased access and sustainability.
Decatur has garnered significant support for these priorities through the Our Path Forward comprehensive campaign, publicly launched in October 2018 with a goal of $300 million and buoyed by a $75 million lead gift. In 2021, the campaign's goal was increased to $500 million thanks to an anonymous $100 million gift, the largest in the College's history, and renamed Our Path Forward to the Bicentennial, recognizing Kenyon's upcoming 200th birthday in 2024.
With a background in chemistry, Decatur often teaches courses including seminars in biochemistry and has developed Kenyon's natural sciences division, with the College becoming a leader in providing students with experiences rivaling those found at major research universities.
Prior to assuming the Kenyon presidency, Decatur served as a professor of chemistry and biochemistry and as the dean of the College of Arts and Sciences at Oberlin College from 2008 to 2013. From 1995 to 2008, he was an assistant and associate professor of chemistry at Mount Holyoke College, where he helped establish a top research program in biophysical chemistry. He was a visiting scientist at the Massachusetts Institute of Technology from 2004 to 2005.
Decatur has won research grants from the National Science Foundation and National Institutes of Health and from private foundations including the Alzheimer's Association, Dreyfus Foundation and Research Corporation for Science Advancement. He is the author of numerous scholarly articles and has received a number of national awards for his scholarship. Decatur was named a Fellow of the American Association for the Advancement of Science in 2017 and was elected to the American Academy of Arts and Sciences in 2019.
Decatur's writing has appeared online in the Washington Post, the Chronicle of Higher Education and the New York Times Room for Debate commentary forum. He has twice appeared at SXSWedu and been a guest on the Ezra Klein Show on Vox. One of his essays, "When the Number 9 Bus Was Like Home, and Downtown Was My Playground," was selected for the 2012 book "Rust Belt Chic: The Cleveland Anthology."
Born and raised in Cleveland, Ohio, Decatur attended the Hawken School before earning his bachelor's degree at Swarthmore College, where he was elected to Phi Beta Kappa in 1990. He earned a doctorate in biophysical chemistry at Stanford University in 1995.
Decatur is married to Renee Romano, the Robert S. Danforth Professor of History and Professor of Comparative American Studies and Africana Studies at Oberlin. Romano is a specialist in 20th-century American history, with research interests in African American history, civil rights and historical memory. They have two adult children, Sabine and Owen.