Kenyon wouldn't be the same without the hard work and dedication of hundreds of dedicated alumni volunteers. We are grateful for every one of them! Read on to get to know a few of our stand-out volunteers and learn more about becoming one yourself.
---
JUNE 2022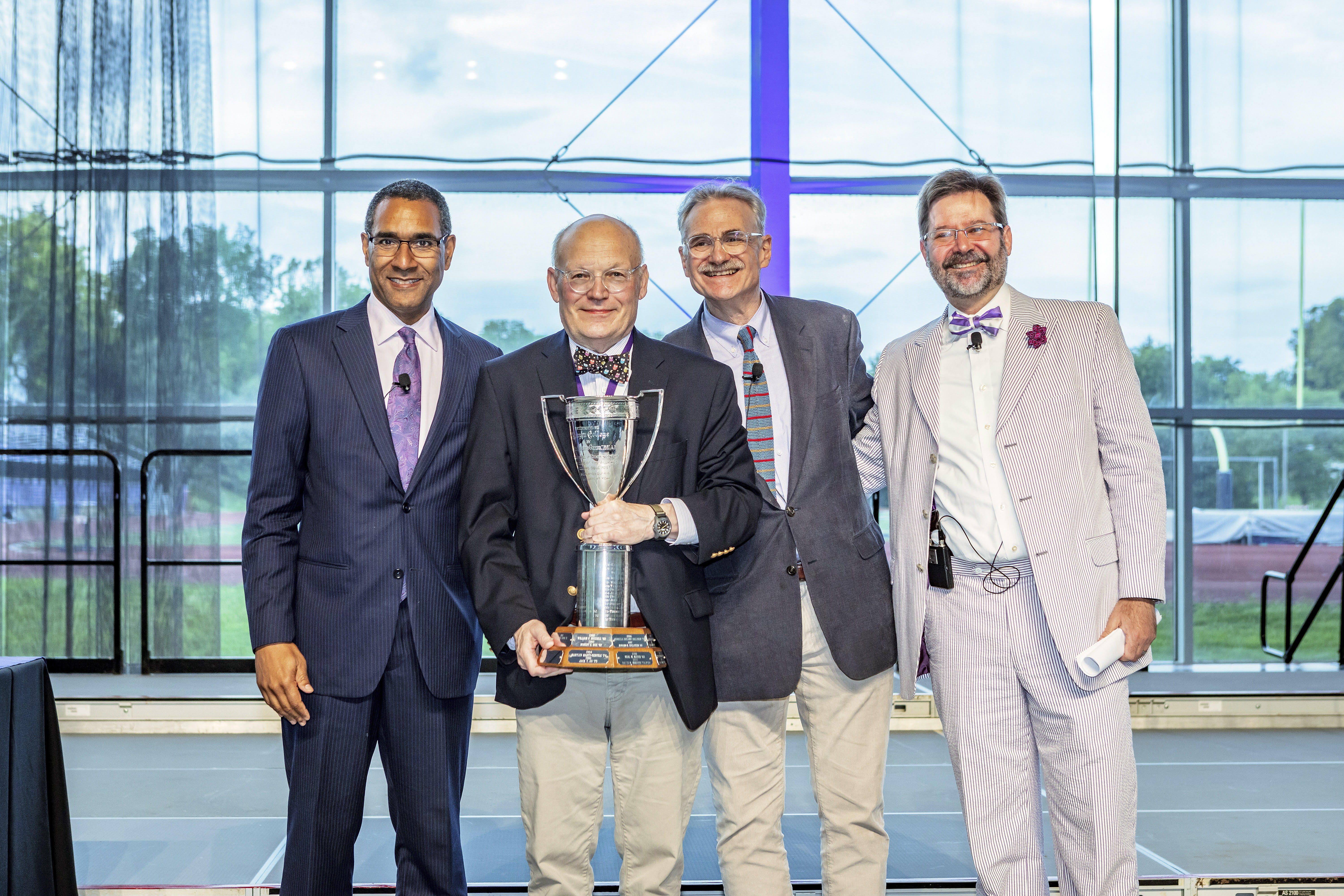 Thomas Moore '72
At Kenyon's first-ever all-class soiree on Saturday, May 28, President Sean Decatur presented the 2022 Gregg Cup to Thomas Moore '72 in recognition of his history of service to the College.
Moore has served as a Kenyon volunteer since at least 1984 — as far as alumni office records go back. He has served as a class agent for 30 years and worked on six reunion committees and two campaign committees. He has served as a trustee, on the Kenyon Fund Executive Committee and Alumni Council, twice each, and helped shape the new 50th reunion program, among other contributions to the College. He has served the College as well as any alum, and done so with a smile. In fact, his motto is "work hard and be nice to people."
Additional 2022 alumni awards were announced throughout the weekend. These awards recognize outstanding commitment to the College by specific alumni classes and individual members of the alumni community. Individual awardees are nominated by their peers or friends of the College, with final selections made by Alumni Council.
The full list of award recipients can be viewed here.
---
APRIL 2022
Katie Goldman '16
Katie Goldman '16 began volunteering for Kenyon when she graduated in 2016. She has served the College as a class agent and young alumna on the Kenyon Fund Executive Committee. As a member of KFEC the past six years, she has gained a deeper understanding of how important the Kenyon Fund is to the College's operation.
"While at Kenyon I benefited in many ways from the Kenyon Fund and now as an alumna I seek to give back to the place that transformed my life. Kenyon is where I learned how to be an inquisitive student and follow my passions. It is where I was able to do what I wanted to do, rather than what I thought I should do. While at Kenyon, I met my best friends and my partner, people that have impacted my life in big ways. Volunteering for Kenyon and making regular gifts to the Kenyon Fund are the ways I choose to give back."
Katie is particularly proud of helping to re-launch the regional committee in Austin, Texas, which has been a wonderful way to connect with many alumni in the area. She was an art history major at Kenyon and now spends her time working as a third grade teacher at St. Andrew's Episcopal School in Austin. In her free time, she enjoys cooking and exploring new restaurants. She also recently got a puppy, named Bear, who she loves going on walks with.
---
MARCH 2022
Nina Freedman '77 H'92 and Eliza Rossman '84 P'15
Nina Freedman '77 H'92 and Eliza Rossman '84 P'15 recently helped shape and launch our new volunteer-driven event series, Kenyon Women Giving Back, which celebrates our philanthropic alumnae, honors their contributions and shares the important stories of how Kenyon women are impacting the world collectively. Each quarterly event focuses on a small group of alumnae who share common philanthropic goals — whether it be where they choose to give back, how they choose to give back or what they choose to give back.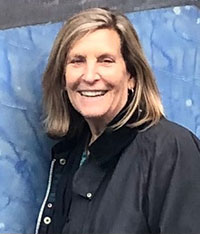 "How lucky I was to be able to lend my voice with Eliza Rossman and a fabulous leadership group, celebrating the past 50 years and the next 50+ years of Kenyon Women Giving Back. Launching this new initiative gave us the opportunity to reconnect with incredible women from every decade who have led the way, giving back to Kenyon with their time, talent and treasure. I so look forward to connecting decades of Kenyon women still to come!" — Nina Freedman '77 H'92 (left)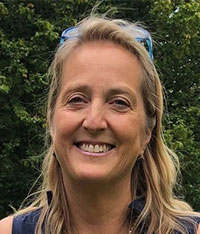 "Making new Kenyon women friends and working together with Nina to launch Kenyon Women Giving back has really brought me back into the Kenyon fold in a new and meaningful way. The College is on such an exciting path and I'm thrilled to be a part of it — working to help Kenyon women everywhere get engaged and stay engaged!" — Eliza Rossman '84 P'15 (right)
With the development and launch of the program behind them, as well as the group's inaugural event on alumnae giving back as nonprofit leaders, Nina and Eliza have passed the baton to Kenyon Women Giving Back's next alumna leader: Una Fogarty '90.
---
DECEMBER 2021
Nicolyn Woodcock '12
Nicolyn Woodcock '12 began volunteering for Kenyon as an Alumni of Color Mentor in 2015. Since then the number of volunteer roles she serves in for Kenyon has continued to expand. She is a new member of Alumni Council this year, taught a writing course for Kenyon Educational Enrichment Program (KEEP) in 2019 and serves on the Alumni of Color task force.
"I came to Kenyon as a first generation student fully funded by scholarships and financial aid. I never thought I'd be able to go to a school like Kenyon. I volunteer to give back, not just financially or monetarily. It feels more tangible when you're there seeing your impact on students when you interact with them as a volunteer."
Nicolyn was an English major at Kenyon and went on to receive an M.A. and Ph.D. in English literature from Miami University. She now spends her time working as an English professor at Clark University. She lives in Worcester, Massachusetts, and enjoys cooking and reading in her free time. She is particularly proud of her work as an Alumni of Color mentor to three recent Kenyon students, being available to them as a resource and being part of the journey with them, even in the smallest way.
---
OCTOBER 2021
Paul Goodrich '88 P'23 '25 & Valerie Goodrich P'23 '25
Paul Goodrich '88 P'23 '25 and Valerie Goodrich P'23 '25 chose to be parent volunteers because they both feel Kenyon is a place that needs and is worth their effort — and they can feel the impact they are making!
"We've been volunteering for a long time, and to be honest, I lost touch with Kenyon over the years," said Paul. "I still have some of the best friends from my time at Kenyon. As we began the college search process a couple of years ago for our oldest, Billy, Kenyon came back to mind. I did not want to force Kenyon on Billy, and it was the last school he visited. To our surprise, Billy decided to apply early and joined the class of '23. His brother Jimmy certainly had a strong advocate in his older brother, and he followed suit and joined the class of '25 earlier this year. Valerie and I knew we wanted to be involved in our kids' experience and quickly realized we could help from Chicago."
Valerie and Paul choose to support Kenyon financially because it is important to them that they don't feel like they are donating to a black hole. They appreciate Kenyon's transparency about their needs and uses of financial asks.
As volunteers, Valerie and Paul hosted a welcome reception this past summer for new students and felt particularly lucky to have Bill Lowry '56 join them to see the next class engage with the College. Next up as volunteers for the College, they hope to help Kenyon continue to expand its name recognition, especially in areas of the country that traditionally don't send their kids to small liberal arts colleges.
Paul was a history major at Kenyon and is currently the chief operation officer for the city of Chicago. Valerie attended University of Michigan as well as Rush Medical College and is currently a physician at Lovell Federal Health Care in Chicago.
---
SEPTEMBER 2021
Esmeralda "Esme" Mora '08
Esmeralda "Esme" Mora '08 has been a Kenyon alumni volunteer since 2014. In her role as an alumni volunteer, she has worked with fellow Kenyon graduates from different class years, as well as Kenyon staff, to help improve curriculum decisions for the College.
"I chose to volunteer for Kenyon because it was a great place to attend college, build friendships and grow as a person. I want others to have a great experience as well."
Esme gives to the Kenyon Fund because the donations of someone else made a difference in her life and she wants to help support initiatives that otherwise might go unfunded. As a volunteer, she hopes to encourage more alumni to get involved and be active participants in the ever evolving culture of the College.
Esme was an international studies major at Kenyon. She now lives in Chicago where she works as a Spanish teacher and a founding director at the Language Learner Literacy Advisory Board. In her free time, she enjoys running and writing language learner literature. She is currently writing her third novel for Spanish classrooms and hopes to share her work with Kenyon students who are learning Spanish.
---
JUNE 2021
Richard Alper '71
Richard Alper '71, our 2021 Gregg Cup recipient, lives in Fort Collins, Colorado, with his wife Kate. He earned his J.D. from Georgetown University in 1974, then practiced real estate and land use law.
"Rich has served in almost every volunteer role that we have," said Kenyon staff members in their nomination form. "We couldn't have a more qualified candidate."
Over the last 40 years, Alper has served the College in multiple volunteer capacities, including the Kenyon Fund Executive Committee, the Alumni Council, the Board of Trustees and currently on the board of directors for the Philander Chase Conservancy. In his free time he enjoys hiking, biking, cooking and cinema. He is also actively involved in collaborative conservation in the Rocky Mountain region.
---
MAY 2021
Becky Hoyt '99
Becky Hoyt '99 has volunteered for Kenyon in many ways, beginning her senior year during 100% Senior. Early on, she was an Admission volunteer and president of the Cleveland-area alumni steering committee. She's been a class agent for most of her years since graduating, has helped plan three reunions and has served a term on Alumni Council. Now she's the Class Agent Chair for KFEC, a Women & Philanthropy ambassador and considers herself an unofficial Admissions volunteer — eager to answer questions from prospective students in her life and help them connect with Admissions.
"My years at Kenyon were formative. I had the opportunity to be curious and studious and had enormous support from my friends, fellow students, professors and Kenyon community members. I want to contribute to the College so others can have a similar experience. I am close to having two college-age children, and I worry about tuition bills. I hope to help in any way that maintains the accessibility of Kenyon to all socio-economic groups."
Becky gives to the Kenyon Fund because she relied on financial aid to attend Kenyon and she wants to support other students as earlier alumni supported her. As a volunteer, she's been working on creating a program to support class agents through monthly informational luncheons this year. She is also helping to develop a learning plan for new (and current) class agents so they feel prepared to stay in touch with their classmates and comfortable asking for support for the College. Her hope is that this work increases the connection alumni feel to the College and to each other.
Becky was an anthropology major at Kenyon. She now lives in Solon, Ohio, and works in HR for McMaster-Carr Supply Co. In her free time (ha!), Becky likes to spend time with her family, read and knit. She has a "Lego city" in her basement and she loves adding to the collection as a fun way to connect as a family during Ohio winters. Now that spring has arrived, she and her family enjoy spending time outside in their garden.
---
MARCH 2021
Emma Hood '19
Emma Hood '19 has been a Kenyon alumni volunteer since May of 2020 when she created a project for the Kenyon Professional Extension Projects initiative. Since then, she has completed eight PEPs for Kenyon! She chose to become a Kenyon volunteer because she wanted to help current students as they look for internships and as they try to figure out what career they want to go into. Her goals are to empower students as they graduate and begin their careers, and to educate current students about investing and finance.
"Kenyon was very generous to me during my time there and I want to give back to help Kenyon improve and continue to be generous to future classes of students."
Emma was a mathematics major, concentrating in scientific computing, and an art history minor at Kenyon. She now spends her time working as a fixed income associate at AllianceBernstein in New York City. Pre-pandemic, Emma enjoyed going to movies, museums and live music performances, as well as trying out new restaurants around the city. Recently, she's gotten back into reading for fun and trying out new baking recipes in her free time.
---
JANUARY 2021
Mary Schwendener '85
Mary Schwendener '85 has volunteered for Kenyon in many different roles over the years. Currently she volunteers as part of the Kenyon Fund Executive Committee, a class agent, a Women & Philanthropy ambassador and for the Career Development Office. She chooses to volunteer for Kenyon as a way to give back for all the College has given to her — critical writing and thinking skills, people who supported and challenged her to become her best self, a curiosity about the world and the tools to engage in it. As a volunteer, she is particularly proud of the way the Class of 1985 steps up again and again for Kenyon.
"My Kenyon friends ended up sustaining me through the excruciating time that was 2020. Without their love and support, I don't know that I could have made it. I want other people to have the experience and long-term friendships that can only be obtained at a small place, on a small Hill, in the middle of Ohio."
Mary was a psychology and English double major at Kenyon. She resides in Richmond, IN and spends her time working as a clinical psychologist in private practice, as well as for the Dayton VA and Centerstone Community Mental Health. In her free time, Mary has enjoyed getting back into rowing and is a voracious reader (including as part of the Kenyon Alumni Book Club!). She loves spending time with her kids, friends, dogs and cats, and enjoys eating good food, traveling, gardening and spending time at the beach.
---
NOVEMBER 2020
Daniel J. Rooker '12
Dan Rooker '12 has been coming back to campus for Delta Tau Delta mentorship gatherings since 2013. In the spring of 2019, he became an official Kenyon volunteer at the Alumni of Color Mentoring Weekend.
"While at Kenyon I sought and found short-term mentors in the form of upperclassmen, coaches, professors, and (occasionally) alumni. It wasn't difficult to find someone willing to listen and give advice. So I feel that by volunteering, I am passing the gift of mentorship forward."
As part of the committee that brought the Kenyon Alumni Mentorship Program (KAMP) to the Men's and Women's Swimming and Diving team earlier this year, Dan is proud to have helped to recruit about 60 alumni volunteer mentors who will work with current students through graduation. So far, KAMP for Men's and Women's Swimming and Diving has matched participants from the classes of 2022 and most of 2023, with additional mentors in reserve for next year.
Dan was a physics major at Kenyon. He now spends his time working as an advisor for Private Vista, LLC in Chicago. In his free time, Dan enjoys going on evening walks with his wife and their four-year-old Newfoundland, Moose.
---
SEPTEMBER 2020
Maraleen Shields '00
Maraleen Shields '00 has volunteered in many different roles over the years. She has volunteered as a member of the Philadelphia Regional Association, with the Kenyon Career Development Office, on reunion committees and more. She currently serves on the Our Path Forward campaign committee and chairs the Kenyon Fund Executive Committee.
"Any volunteer, particularly one who is willing to travel to Gambier in February for meetings, has a deep love of Kenyon and I am no different. Volunteering is an incredible way to experience Kenyon across generations. Being involved creates opportunities to see Kenyon through the eyes of other alumni."
Maraleen was a philosophy and political science double major at Kenyon, with a law and society concentration. She now spends her time working as a shareholder for Fitzpatrick Lentz & Bubba P.C. in Allentown, Pennsylvania. In her free time, Maraleen enjoys working out and learning to speak Spanish. She is proud of her longevity of service to Kenyon and how she has remained connected to Kenyon (to greater and lesser degrees) while maintaining a law practice and helping to raise her two kids.