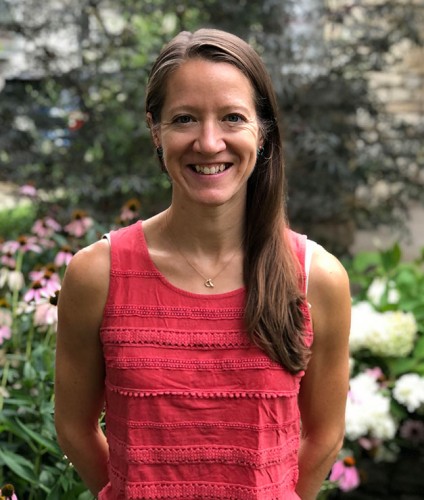 Ellie Escosa Carter danced professionally with BalletMet, American Repertory Ballet and Eisenhower Dance Detroit. She graduated summa cum laude from Southern Methodist University and earned her MFA from The Ohio State University, where she was a university fellow and a graduate teaching associate. She was on the faculty at both the Princeton Ballet School and the Eisenhower Dance Detroit Center for Dance.
While at OSU, Carter received funding from the Presutti-Madison Memorial Dance Fund and an Alumni Grant for Graduate Research and Scholarship to support her work. Carter has worked as a lecturer at The Ohio State University and a visiting assistant professor of dance at Kenyon, where she taught ballet, ballet pedagogy, writing about dance, and dance history.
While living abroad, she taught for Ballet in Small Spaces in Oxford, England, and served as a guest teacher and rehearsal assistant for Dance Denmark.
As a dancer, a teacher of dance, and a maker of dance, Carter seeks to evoke embodied meaning by exploring her own, as well as her collaborators'/dancers' physicalities, movement histories and virtuosity.
Education
2013 — Master of Fine Arts from The Ohio State University
2005 — Bachelor of Fine Arts from Southern Methodist College, summa cum laude
This course is designed to introduce dance as a performing art form, historically as well as in practice. The course explores how dance as a cultural phenomenon helps shape and is shaped by cultural values and historical events. The course tracks the development of dance as a performing art in Europe and in the U.S. from the Renaissance to the 1950s, identifying important stylistic trends in the works of major contributors to the field. While the focus of the course is on Western concert dance as a performing art, students will also study some dance phenomena cross-culturally in order to broaden understandings of the function of dance and its relationship to cultural beliefs, social practices, and the history of ideas. The study of dance history provides a lens for exploring the world, its people and their cultures. Assignments include written work and short movement studies composed by students to embody significant trends in the evolution of dancemaking and to explore various aspects of choreographic process. Required for the major and minor. No prerequisite. Offered every fall.
This course expands on the fundamentals of ballet technique with a more in-depth application of the ballet vocabulary and style. This counts toward the technique requirement for the major and minor. Permission of instructor required. Generally offered every semester.