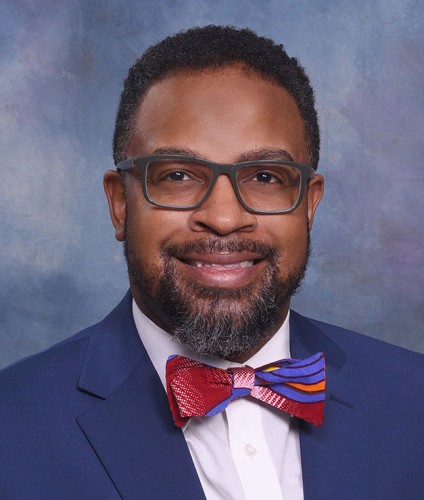 Chris Smith received a B.S. in medical technology (Tuskegee University) and a Master of Public Health in behavioral science and health education (Saint Louis University). Chris primarily worked for federal public health agencies prior to Kenyon College including the National Cancer Institute and the Centers for Disease Control and Prevention (CDC). In late 2007, Chris joined the CDC and completed a three year public health management fellowship. From 2010-2017, Chris was a CDC public health advisor assigned to the Michigan Department of Health & Human Services Division of Immunization Management. During his federal service, Chris had several emergency preparedness deployments including the 2009 Kentucky ice storm, 2010 World Equestrian Games, 2015 West Africa Ebola outbreak and 2016 Zika virus outbreak.
Chris joined Kenyon in October 2017 and is excited to lead a very talented staff at the Cox Health & Counseling Center.
Aligned with his Kenyon responsibilities, Chris serves in several off-campus leadership activities: president of the Ohio College Health Association; American College Health Association Advocacy Committee; Knox Community Hospital Board of Trustees; Wellfleet Insurance Student Health Advisory Board; Knox Health Planning Partnership; the Gund Advisory Committee. Chris formerly served on the Licking-Knox Mental Health & Recovery Board and Grand Valley State University Department of Public Health Advisory Board.
In his spare time Chris enjoys cycling, baking/cooking, fishing/hunting, playing bass guitar, and enjoying heart-felt, face hurting laughter with family and friends (old, new and future). He is married to Kenyon Assistant Professor of Biology Arianna L. Smith and they have two daughters (Georgia Faye & Rue Sarah).
Education
2006 — Masters in Public Health from St Louis University Mo
2004 — Bachelor of Science from Tuskegee University