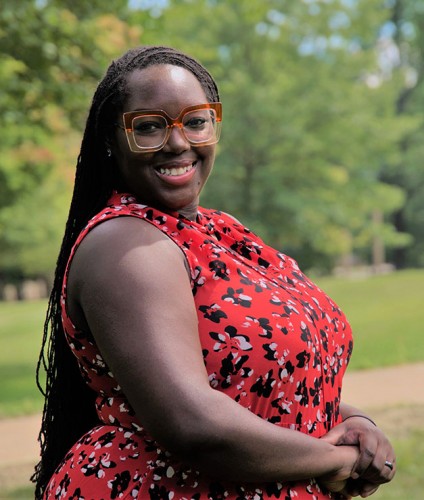 Brittney Miles is a 2022-2023 Marilyn Yarbrough Dissertation & Teaching Fellow of Sociology. Her research focuses primarily on Black girlhoods, specifically related to beauty, embodiment, disability and asexualities. She uses interdisciplinary qualitative methods to prioritize Black women and girls' critical subjectivities through Black feminist approaches to sociological issues.
Miles is excited to be back at her alma mater. She especially looks forward to supporting the Office of Diversity, Equity, and Inclusion, which was critical to her success as a Kenyon student.
Areas of Expertise
Black Girlhoods, Beauty & Embodiment, Asexualities
Education
2020 — Master of Arts from University of Cincinnati
2017 — Master of Education from DePaul University
2013 — Bachelor of Arts from Kenyon College
This mid-level course will explore the methods that sociologists use to study popular culture and media products, and will examine the connections of popular culture and media to broader social patterns within American society. Course material will cover a range of subjects, including movies, television, the news, novels, and advertising. Students will become familiar with several approaches to the study of popular culture and mass media, and examine what these cultural products can reveal about social norms, trends, and relationships. In addition to empirical assessments of the content of cultural products, the course will examine the institutional structures that shape their production and distribution, as well as patterns of audience consumption and interpretation. This work will culminate with the opportunity to design a research project that uses sociological methods to critically interpret and analyze popular culture products. Prerequisite: foundation course in sociology or permission of instructor.
This course is for advanced students. See online searchable schedule for further description. Prerequisites: permission of instructor and department chair.