Welcome to "Kenyon in the World." This is the Web site for everything global at Kenyon. Find out about programs and projects out in the world and exciting events on campus with an international focus. This is also the place to keep in touch with Kenyon's international community.
News
Kenyon students have started a new publication called the Kenyon Global News. Pick up your copy in Pierce, Olin, the post office, and the bookstore.
Natalie West, '10, a double major in French and Music will be sending us regular updates on her experiences as Fulbright English Teaching Assistant in Nepal.
Yukiha Maruyama '12, a junior from Japan, who went to high school in Singapore, is already studying and living abroad at Kenyon. But this past summer she chose to engage in volunteer work in Ghana. Here is her report.
Vicki Barker '78 is a broadcaster and newswriter based in London. Hear her report on the British economy, which aired on NPR's "All Things Considered" this week.
Christie Dutko '09 writes about her experience in the Peace Corp in Guatemala. She is just getting started and has sent this first report.
Related Links
International Studies Modern Languages and Literatures
Asian Studies
Center for Global Engagement (Off-Campus Study)
Student Organizations with International Interests
Find us on Flickr! Kenyon in the World group
If you have any questions, suggestions, or comments about this website, please contact: Wendy Singer or Pamela Hollie.
BBC News - Home News Feed
US rescuers comb tornado-hit area
The rescue effort after the Oklahoma twister that killed 24 people nears an end, as it emerges the storm was more powerful than thought.... (Read more)
Oklahoma tornado: Survivors' stories
A huge tornado has ripped through the suburbs of Oklahoma City, claiming dozens of lives. Residents of have been telling their stories.... (Read more)
In pictures: Monster tornado hits Oklahoma
Images from the US state of Oklahoma, where a monster tornado has killed a number of people and flattened entire neighbourhoods.... (Read more)
VIDEO: Newly homeless face their loss
Tornado survivors seeking shelter try to come to grips with what had happened... (Read more)
Postcard from Jordan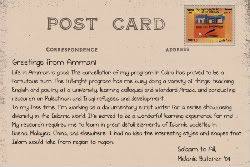 Melanie Butcher, Class of 2009,
tells us
about her experiences Fulbright experience in Amman.